Brother KH930 knitting machine was released to the market in 1986. It comes with at least two color variations: standard yellow/brown and white/bluish color combinations.
Sometimes KH930 is branded as ElectroKnit and/or CompuKnit III and/or KnitKing III or even Topical-3.
 The typical variety has a coffee-burgundy color combination and is very likely targeted for Japanese markets only judging by th Japanese writing all over the machine including the carriage.
The KH930e is the anniversary edition and those machines are marked as KH930e. and has light blue color accents.
Brother KH930 knitting machines have 200 needles spread 4.5 mm apart from each other. This is a standard gauge machine.
Brother KH930 knitting machines offer electronic patterning capabilities. The memory of the machine has several (555+) pre-programmed built-in patterns. Brother KH930 does not have Mylar reading capabilities. Instead, for custom patterns, it has a port to import and export patterns. In the past, it was done with the PPD-100 or PPD-120 (programming devices) and FB100 disk drive. Nowadays, this link is used to connect to the computer/laptop through a special link cable and software. These cables and software vary. I will write a special article on those. But for Brother KH930 knitting machine the most popular choice is DAK cable and software. Large patterns (like for all 200 needles and for several rows) might require pattern transfer in parts because of the limitations in memory of Brother KH930. Read what I've done for one of my large patterns.  Some KH930 machines have extended memory (a custom service done by Brother back in the day on some machines). Additionally, simpler patterns can be entered manually by pressing buttons on the machine (the manual describes it very well). I have done it and it works well but just one needs to pay a lot of attention. Below is the sweater I made for my son's stuffed doggie with his initials.
I even used all with DAK and absolutely loved it. Below is images of my DAK project, also shown in my video as it knits. First, I digitized the image of my cat and converted it to dark/white squares (the type of pattern that DAK software recognizes). Then I transferred the pattern to DAK program, then to the knitting machine (in several parts) and knitted (one part at a time). It was honestly a blast!!! I could ot believe I pulled it off from the first try.
Then I knitted the back cover for this panel (because I had waaaay too many long floats) also from a DAK-created pattern (generously offered by a friend). And made a pillow case out of these two knitted panels.
Below is another pattern I created in DAK directly and then transferred and knitted on Brother KH930.
The machine also allows you to manipulate the patterns (doubling it in length, mirroring, turning left/right, revering, etc. – see all options in the manual). All these manipulation options are shown on the electronic dashboard.
Overall the machine and the carriage are very versatile. The standard setup comes with a lace carriage. The main carriage has built-in intarsia capabilities. It also has settings (activated by pushing the buttons on the carriage) to knit tuck, fair-isle, skip, thread lace, and lace stitches. (It is recommended for tuck-wheels on the sinker plate to be pushed in. Sometimes they push out by themselves if the tension is too high. For better and more even tuck-stitch knitting, I always check if the wheels are still pushed forward). The machine is also capable of weaving and plating knitting. The levers on the carriage allow not to knit certain stitches (so-called "hold" position).
The machine comes with standard assesories, including extension rails (for the lace and garter carriages), cast-on combs, a plating yarn feeder, and a latch opening plate.
The minor assesories all fit inside a built-in storage box with an attachable lid.
The carriage has additional settings on the right-hand side knob not seen in some of the Brother standard-gauge punchcard machines. KC(I) and KC(II) settings. When KC(I) is chosen, the very last needles on each side will be selected automatically (to catch yarn, for example, for fair isle, or not to have any "tucked" or "slipped" stitches in these last positions). When KC(II) option is selected, the last needles on each side are selected according to the overall pattern/needle selection predetermined by the pattern.
Brother KH930 knitting machines can be equipped with several additional assesories and attachments:
-KHC-820a, KRC-830, KRC-840, KRC-900 and KRC-1100M color changer. The letter "R" in the name of the color changer indicates that the color changer can be used on the double bed (machine+ribber) setup.
– with all garter carriage models: KG88, KG88II, KH89, KH89II, KG93, KG93II, KG95, and KG95-OMNI.
– Brother ribbers KR810, KR830, KR850 and KR900
– Brother knit-leaders KL112, KL113, and KL116
– Pattern programming devices Brother PPD100, PPD110 and PPD120
– Intarsia carriage KA8210. (I have not yet knitted intarsia using Brother KH930 – so not sure what works better: the intarsia on the main carriage of intarsia with the add-on KA8210 carriage)
– Transfer carriage Brother KA8300
– Linking carriage Brother KA8310
A replacement for the right-hand side end cap (in which some of the electronics and electric wiring are nested) is hard to find.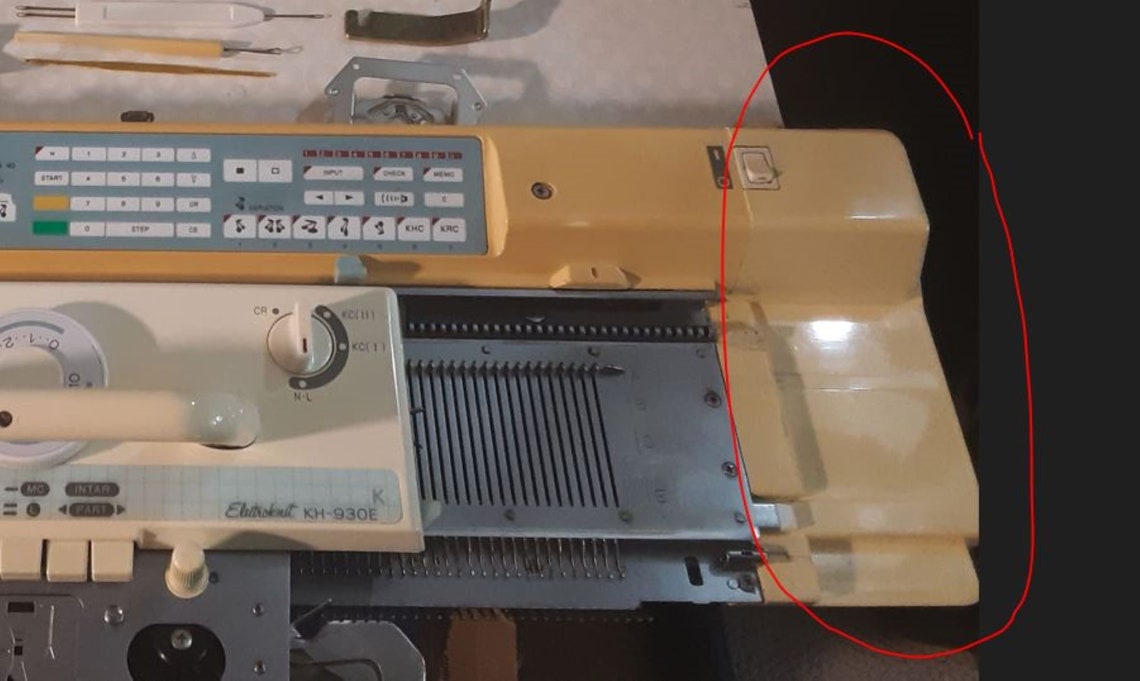 One time the machine I sent to the customer came busted. Thus, I hired an engineer to create a 3D rendering of the right-hand side end cap.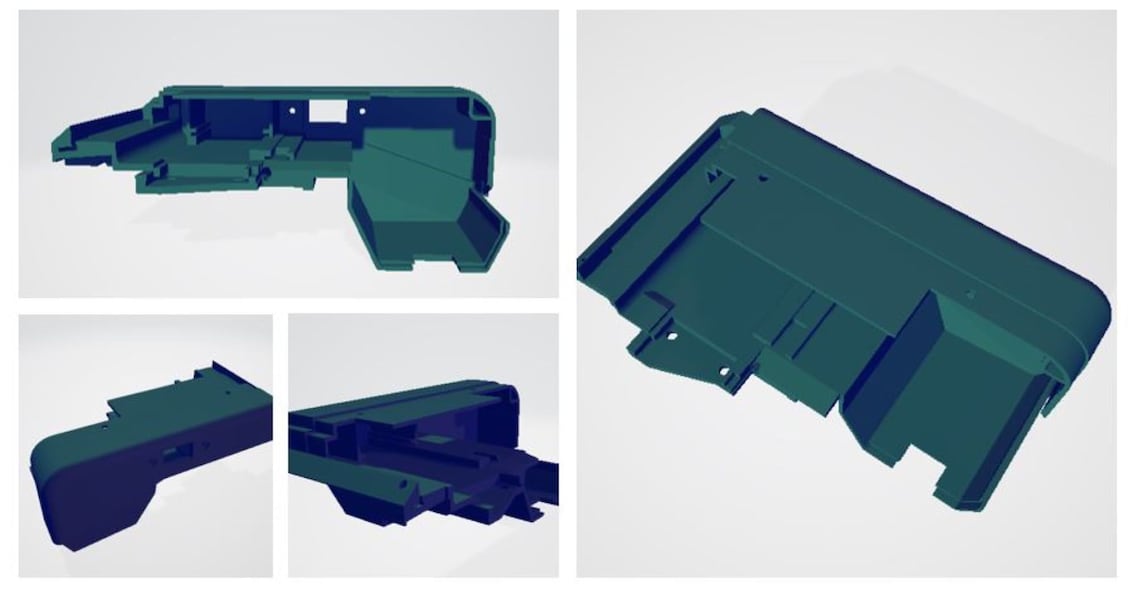 We printed it and it turned out great. The end cap for Brother KH930 is available in my shop for sale. It also matches the right-hand side end cap for Brother KH910,  Brother KH940, Brother KH950, Brother KH950i and Brother KH950e. Removing and installing this end cap is somewhat cumbersome. Watch my videos to get some hints.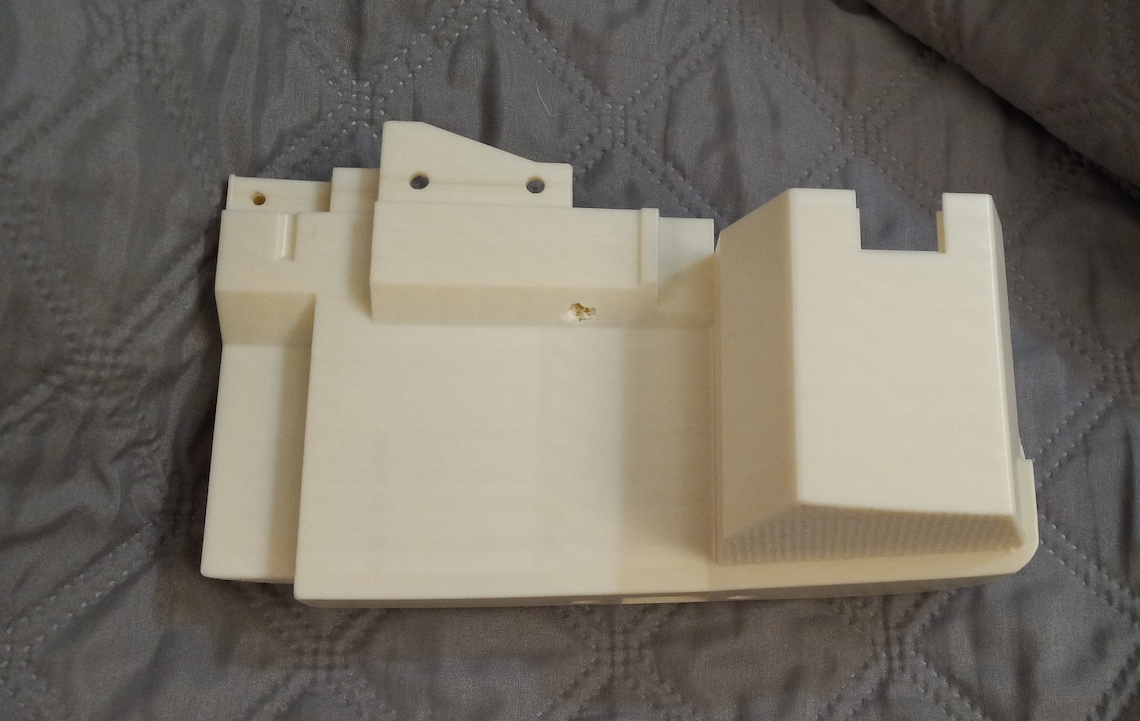 I worked on, refurbished, and tested three different Brother KH930 knitting machines. I already knitted on many different machines and I document all my tests in videos I make. Thus I first-hand can judge all pros and cons of Brother KH930. So, here they are:
Pros:
Very easy to move the carriage, especially in KC mode (the mode where the carriage latches onto the timing belt, which makes the carriage move even easier).
Very smooth knitting overall
The manual is very well-written and covers everything that a user would need to start knitting. In fact, after reading numerous knitting machine manuals, I was amazed at how well the manual for KH930 is written. Just make sure you read it without rushing to the next bullet point and pay attention to all details. I did not even refer to any other tutorials (videos on your tube or brochures).
Plenty of online resources (including videos) on how to use it, enter patterns, connect to PPD, connect to DAK, etc. exist on the Internet.
Can handle two different yarns (of different colors, for example) at once without the need for a color changer.
Numerous built-in patterns for fair isle, stockinet, slip-stitch, etc.
Buuilt-in row counter positioned in the middle of the needle bed. Thus, no chance of losing it. The middle-of-the-bed position ensures that all rows will be accounted for without the need to overextend the carriage to the side (some models have a row counter at almost the end of the needle bed).
Knitting a single-motif fair-isle pattern was so easy, much simpler than on Studio/Singer knitting machines. Compared to those machines, knitting single-motif on Brother KH930 was a no-brainer: no need to keep track of numerous single motif assesories…
A built-in storage box with a lid: fit all accessories.
Tuck rubber wheels on the sinker plate allow knitters to create neater tuck stitches.
More needle selection settings on the carriage knob (KC(I), KC(II) and NL) than on other knitting machines, like punch-card patterning KH830, KH836 and KH840 models. SM setting is not present (because single motif knitting on this machine is very straightforward and no additional settings or cams are needed).
The handle on the carriage folds nicely (on some older models it screws on) for storage. Almost zero chance for the handle to be misplaced or lost.
A convenient holder for tools is located to the very left of the electronic display
Brother KH930 knitting machine can be used with a variety of other accessories: knit leader, color changer, garter carriage, etc. (listed in detail above)
Replacement parts (needles, sponge bar, transfer tools, etc.) are very easy to find on the used and new markets, including the electronic motherboard.
The machine has an outlet to connect a cable for data transfer. Some electronic Brother knitting machine models do not have this option. Some consider it a con and some a pro. However, in the case of Brother KH-930, you can have the option to connect the machine to an external disk driver (PPD-100 or FD-100), to a computer equipped with special software (DAK) or to be modified to connect to a free source software (like AYAB or image track).
A lace carriage comes with every  KH930 set. When not in use, it sits inside the lid. When in use, it is compact on the bed or can be moved to the side of the extension rails.
Cons:
Without power, only the stockinet stitch can be knitted. Without power, some patterning can only be achieved with manual stitch manipulation.
Electronic components can be damaged (by dirt, mishandling, overheating, etc.). However, electronic replacement parts are available in used and new markets.
Some might find the manual a bit confusing but once the user follows all steps, the explanations will start making complete sense.
IMPORTANT: turn off your machine when not in use. The patterning will remain active in the machine memory (including where you stopped your knitting). However, overheating is one of the main reasons for electronic part failure. for example, when I knitted a stockinet – I turned the machine off. even if I stepped for a coffee – I turned the machine off. My husband (who is an electrical engineer) even recommended installing a mini fan by the machine to ensure the prolonged safe operation of the electronic parts.
Plastic components of the machine, including plastic parts on the carriage, end caps, and others are prone to discoloration due to exposure to sunlight even through the window. Thus, please cover your machine with a thick curtain or a towel to prevent further sun damage.
Like any other metal-bed knitting machine, Brother KH930 if not stored/taken care of properly, it will rust.
The sponge bar needs to be replaced regularly.
Buttons on the carriage are often stuck if the machine is not in use for prolonged periods of time.
Tuck wheels on the sinker plate might need to be checked quite frequently to ensure they are in the correct position. When I knitted tuck patterns on Brother KH930, I felt that sometimes they retracted on their own.
Almost all the cons refer to when the machine is not stored properly and are mostly related to machine maintenance and good operation practices.
Brother made other electronic standard-gauge knitting machines: KH900, KH910, KH940, KH950, KH950i, KH950e, KH965, KH965i, and KH970.
Studio/Silver Reed/Singer companies also have electronic knitting machines with model numbers 500, 511, 550, 560, 561, 580, and SK840.
Passap has two electronic models: E6000 and E8000.
Overall, the Brother KH930 model is a solid machine and I like it very much.